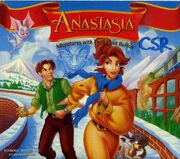 Anastasia: Adventures with Pooka and Bartok is a licensed game.
...Well, that should sum it up!
Gameplay
Okay, I suppose some elaboration is necessary... this is a point-and-click adventure game, similar to (once again) what Disney tended to do for their recent releases. It was slow, boring, and nonsensical. For more details, try this Mobygames quote copied from Wikipedia:
It features five different scenes, depicting situations from the movie. Diary entries by Anya tell the happenings between those stages. The player takes the role of the puppy Pooka and needs to solve problems and puzzles to help Anya out. When searching through the screens, Pooka may meet the minions of the villain Rasputin. Then they take him to the underworld where he has to solve action or strategy mini games. The majority of the game is a traditional point & click adventure. Bartok, the bat, plays only a secondary part and provides some advice here and there. If players are stuck, they can use the in-game hint system.
Reception
It was panned. Are you really surprised?